Providing a wide range of
opportunities and consequences

The EMPS model has been in use for decades in the Nordic electricity market, for both operational planning and the utility value analysis in a number of investment projects. The model has proven to be very helpful and useful by a wide range of studies. In addition, all scenario analyses that apply EMPS model, offer essential decision making support to customers.
SKM Market Predictor uses the EMPS model in its regular analysis service. We accumulated extensive knowledge and experience in the long-term analysis and developed a powerful system for operating the model. SKM Market Predictor provides its power system model coverage to the Nordic, European, Baltic, and Russian markets. The EMPS model along with the entire analysis system forms the basis for the long-term special analyses service.
In addition to the regular SYSPOWER analyses, we now offer the following range of long-term special analyses:
Customer-specific analyses on demand, both regular and scenario analyses
Long-term price profile for local analyses, risk analyses, etc.
Analytical results from all inflow years. We are currently using 57 inflow years for the period 1958-2015
Investment analyses
Long-term special analyses offer
Consequences of various macro- economic developments as well as operational scenarios
Overview of future price uncertainties
Price forecasts as general terms for risk analyses, portfolio management, and local long-term/seasonal analyses
Investments analyses:

Strategic investment opportunities in the power system
Case studies of specific investment
Analyses of reinvestments

Asset valuation
Regular customer-specific analyses
Example: Power system model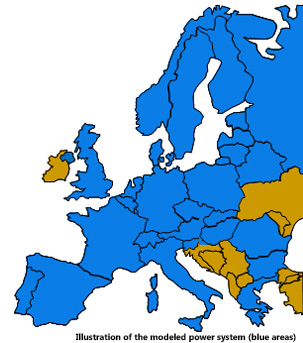 The long-term special analysis is offered as an on demand service and the cost is task-dependent .